live remote broadcasting.
Anywhere.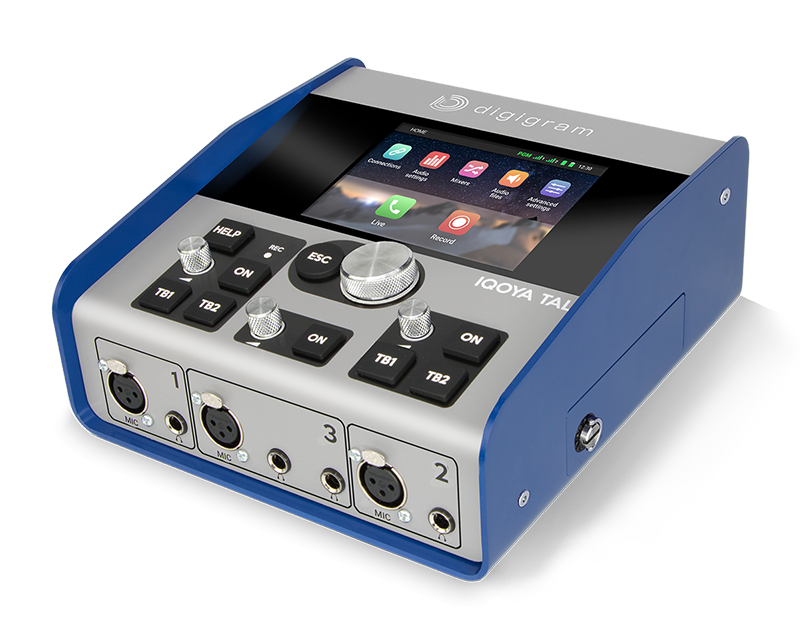 Our IQOYA TALK portable IP audio codec was designed to ease your life when live remote broadcasting for radio and TV.
Its intuitive user interface, designed for non-tech users, is as simple as a smartphone and enables remote reporters to perform all key actions in just 2 clicks. Focus on your live reporting or commentary, make your 4 guests at ease for a studio quality interview or talk show, IQOYA TALK takes care of the rest: audio content is streamed through a large number of wired or wireless 'last mile' connections. Reliable, high quality sound, simplest configuration: your IQOYA TALK companion has your back.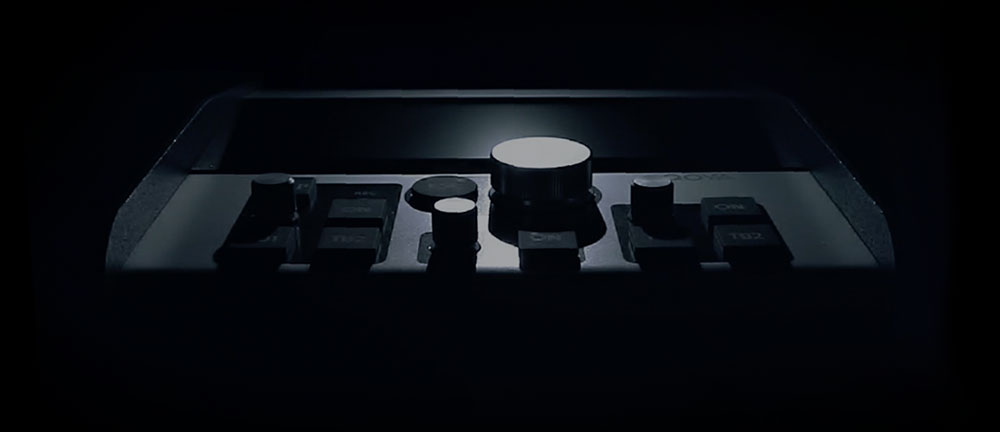 The most connected
Build-in connectivities: 2 Ethernet, WiFi, 2x 3G/LTE/4G
Talk's got your back
2 Independent SIP connections
(TB and PGM)

Headache-free configuration
Predefined configuration in the studio Provisionning of configuration
Smartphone-like UI experience
Instinctive smartphone like user interface for quick access to all on-field settings
Always On-Air
Up to 2 independent and hot-swappable Li-ion batteries that last up to 8 hours
Make the most of IQOYA TALK with IQOYA CONNECT

Remote broadcasting today: the objective of radio and television channels is to produce and distribute attractive content. They need easy-to-use solutions and tools to stay content focused.
We believe that today's remote broadcasting solutions should be easier than they are.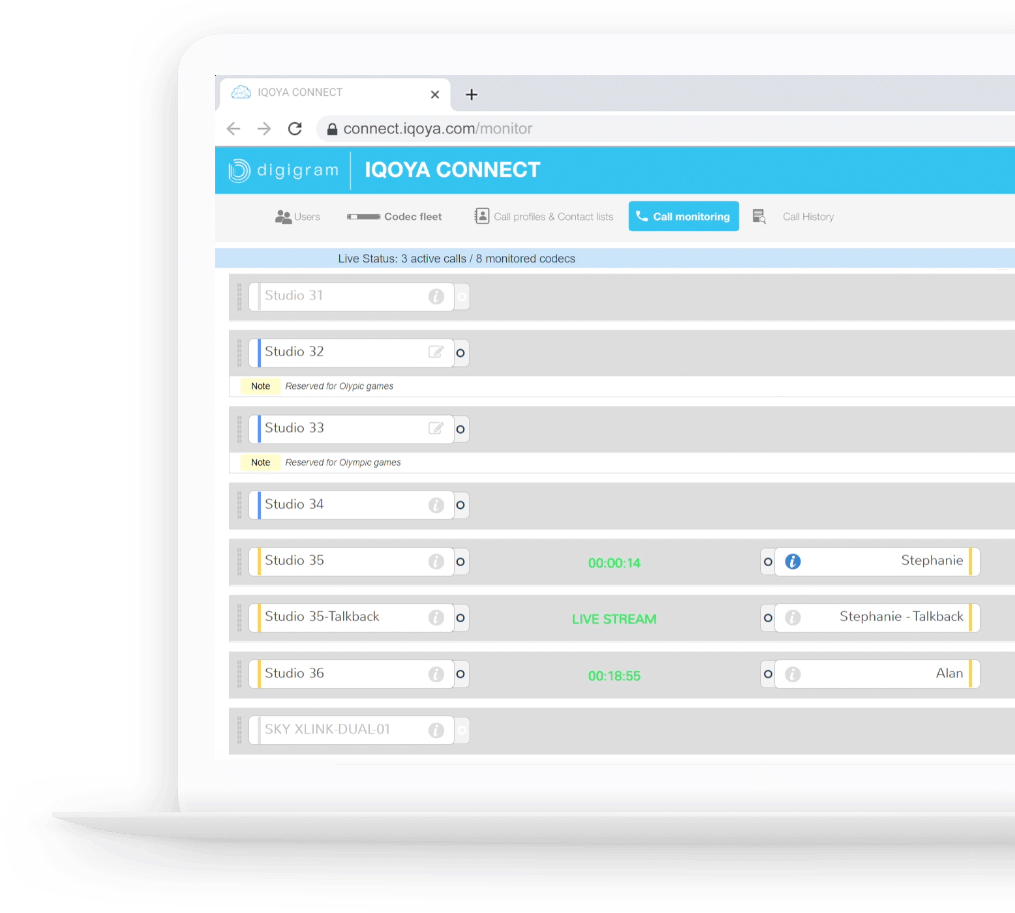 Key features
What makes IQOYA TALK a unique portable audio codec.
High quality audio recorder
Dual build-in 4G/LTE module
Dual Gigabit Ethernet ports
Simple UI with 5" LCD touchscreen or knob

11 Inputs / 10 outputs embedded mixer
Fast access to each headphone mixer
2 independent SIP connections TB & PGM
Connectivity
2 Gigabit Ethernet ports for EBU/ACIP 

1 integrated dual band wifi module

2 integrated 4G / LTE modules, approved in Europe, USA and Asia

3 GPIOs

2 USB A ports for files 1 USB C port
Audio
3 Mic inputs, Microphone / Line level adjustment. 48 V phantom power

1 analog or AES/EBU stereo input Line level

4 headphone outputs, individual mix bus on each output

2 Talkback channels for users 1 and 2 and 1 mono or stereo program on independent IP connections

11 input / 10 output embedded mixer
4G band available
B1 (2100 MHz)
B2 (1900 MHz)
B3 (1800 MHz)
B4 (AWS-2100/1700 MHz)
B5 (850)
B7 (2600 MHz)
B8 (900 MHz)
B12 (700 MHz)
B13 (700c MHz)
B18 (800 MHz)
B19 (800 MHz)
B20 (800 MHz)
B25 (1900 MHz)
B26 (800 MHz)
B28 (700 APT MHz)
B38 (TD 2600 MHz)
B39 (TD 1900 MHz)
B40 (TD 2300 MHz)
B41 (TD 2500 MHz)
And covers the following 3G bands:
WCDMA B1 (2100 MHz)
WCDMA B2 (1900 MHz)
WCDMA B4 (AWS-2100/1700 MHz)
WCDMA B5 (850 MHz)
WCDMA B6 (UMTS)
WCDMA B8 (900 MHz)
WCDMA B19 (800 MHz)
Encoding & streaming
2 independent SIP connections for 1 mono or stereo program and 2 talkbacks

Encoding : G711/G722, MPEG-1/2 Layer II, MPEG-4 AAC-LC, AAC-LD/ELD, HE-AACv1/v2, Opus

Dual streaming / Configurable FEC

Redundancy of audio streams on available IP networks (Ethernet, WiFi, 4G / LTE, 3G)

Compliant with ACIP (EBU Tech 3326 and Tech 3368)
General
Lockable external power supply 12-24 V DC

LxWxH: 200 x 216 x 90 mm (77⁄8 x 81⁄2 x 335⁄ 64)

No limit with hot-swappable batteries / Up to 12H autonomy with 2 internal hot-swappable batteries (2 Li-ion packs, 6.4 A.h)

Weight : 2,3 Kg (5 lb) incl. 1 battery
TALK PACKAGE
1 IQOYA TALK

4 3G/4G LTE antennas

1 Wifi antenna

1 Battery 

1 Battery charger

1 External Power Supply
Accessories: 
TALK Case

TALK Bag

Battery 

Battery Charger
Discover the other products of our Audio over IP line up!